The Tangmere Pilots extend a warm welcome to visitors in the Guest Room. Please feel free to register, drop by the Guest Room to say hello. If you are looking to join a squadron, we are currently recruiting. You can browse the rest of our site to see if The Tangmere Pilots fit what you are looking for.
Oberfeldwebel Prangster
Staffelführer 5.LG 2
-------------------------------
Starshina Prangster
Order of the Red Banner, Medal for Merit in Combat
244 BAP, 219 BAD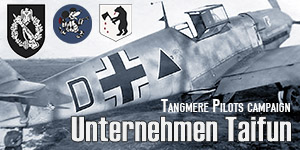 ---
Flying Officer

Posts: 915
Joined: Tue Apr 26, 2005 8:13 pm
Location: Ostend, Belgium
Contact:
:shock: :shock: so they had deck officers and landing officers and 15 chaps to fold the wings etc....we have to do it all on our own....
Very imersive :shock:
Mirror,mirror on the wall,
Who is the best TP of them all?
"Thou are not Tiger, there's no doubt."
Euhh, well...roger that mirror,over and out.

"The Belgian Windbag"
---
Squadron Leader

Posts: 1772
Joined: Tue Apr 26, 2005 10:08 pm
Location: Hertfordshire, UK
Contact:
Awesome, thanks old chap. :D
---
Users browsing this forum: No registered users and 2 guests